Facebook is constantly updating and upgrading its Ads Manager to make sure that advertisers can useĀ it to its full potential, and reap the rewards. Just this week, Facebook rolled out some useful new changesĀ in its Ads Manager.
The newĀ changesĀ include tweaks to campaign objectives, the ability to use animated GIFs in video ads, date comparison, column hiding, as well as reach and conversion estimations when picking a budget. They havenā€™t actually rolled out fully across the platform, so if you are missing them, you should be getting them soon.
Campaign objectives on Facebook have changed. To be more exact, they have been ā€œre-ordered.ā€ Now, Websites Clicks and App Engagement are part of one objective ā€" ā€œTraffic.ā€ Traffic includes all the featuresĀ from Website Clicks and some of the features from the previous App Engagement objective.
Additionally, Post Engagement, Page Likes, Event Responses and Offer Claims objectives have been rolled into one ā€" ā€œEngagementā€ ā€" which includes all Engagement objectives and the option to boost a post.
Finally, Website Conversions and App Engagements objectives are now called ā€œConversionsā€ and helps you to increase conversions on your website or app, by optimisingĀ anĀ app advertā€™s delivery for specific app events. The Conversions objective alsoĀ use features from the former Website Conversions and App Engagement objectives.
Itā€™s not like the objectives themselves have changed significantly ā€" Facebook has re-organised everything in a way that most marketers will better understand.
Facebook has also added the ability for advertisers to use GIFs in their video ads. We donā€™t have any more information about this right now, as it hasnā€™t appeared on our account yet, butĀ Affinitivā€™sĀ Chris RubergĀ shared this screenshot recently.
We may not have this feature yet, but we do haveĀ the ability to create carousel ads that only have video.
Ruberg also found other changes and extra features that we havenā€™t been able to independently verify yet. The screen he shared point to date comparisons,
the ability to hide certain columns to be able to clean up reports,
and finally, projected reach and conversions based on a chosen budget.
Have you Ā seen these changes? Any others recently?
Source: wersm
Facebook Live has only been around for a few months in most countries, but itā€™s already a big success. Today, while releasing the feature to everyone across the globe, Facebook has also launched a bunch of new exciting features that will allow us to make the most of the live experience.
#BeatTheBuzz:

The worldā€™s greatest agencies and most exciting brands gather in London, on April 14th.

Book your place now

!
Whether it is about watching with friends, sharing with closed groups of people, or making live videos a bit more fun, Facebook has thought of it all.
The new and improved Facebook Live comes comes with live reactions, live filters, a discover tab, and the ability to watch with friends. Does this remind you of anything? A good mix of Snapchat, Meerkat and PeriscopeĀ perhaps?
Live For Groups And Events
This is one of the big improvements to Facebook Live: the possibility to go live in Facebook Groups and Facebook Events.
This is massive, partly because these are the placesĀ where you really want to go live. In Groups, it allows you to control who you are broadcasting Live to: it could be your family Group, or your business Group, in any case, it will bring the privacy that can be missing from your profile.
Live in Facebook Events is obviously a big deal for everyone, but especially for brands which are making great use of Event Pages on Facebook. Plus, it allows you to offer something special only to the people who have accepted your invite.Ā Not to all your usual followers.
Live Reactions + Live Filters
Adding Reactions to Live broadcasting was an important step for Facebook, because it brings that much-needed level of interactivity. Live Reactions appear in real-time, and disappear quickly, so broadcasters and viewers both get a feeling of what peopleā€™s reactions are to what they are viewing.
Ā The funniest add-on to the new Facebook Live, has to be
live filters
. In full
Snapchat
fashion, you can now add one of five Live filters to your broadcast, and very soon,
you will also be able to draw on your video ā€" live.
Do you hear that Snapchat?
Watch With Friends
So you have found the funniest live video on Facebookā€¦ what you need know is how to bring in your best friends to have a lot of fun watching together. Consider it done: the new Facebook Live comes with the option to send an invitation to a friend to watch with you,Ā from where they are.
Your friend will receive a push notification inviting them to join you.
Discover More With The Live Hub
Much inspired by its ā€œrivalā€ Periscope, Facebook Live now also has its Discover hub where you can find Live videos to watch.Ā The hub offers a Facebook Live map to explore all public live broadcasts that are currently happening in more than 60 countries around the world.
There is a lot to be done with live video, and it seems Facebook is betting heavily on it.
Source: wersm
Customer service is becoming more and more of an important factor for brands on social media. Many users often turn to Twitter when looking to solve an issue with a brand. This is mostly because, until now, Facebook did not offer the right tools for brands to interact with customer feedback.
This is all changing now, as Facebook is introducing several new messaging tools for brand pages.
Thereā€™s a reason why many Facebook usersĀ prefer to communicate through private messaging: itā€™s fast and convenient. And this is also how they want to communicate with businesses.
According to Facebook, over a billion people visit Pages every month looking for more information from businesses. And often, this will take the form of a comment on a post, or a message sent to the page admins. Today, Facebook is officially launching 3 new messaging features to help businesses and customers interact better.
Reply To Comments With A Message
This is probably the new feature businesses will love the most. All social media managers live in fear of bad comments left on their page by angry customers. And often, they hesitate as to how and where to answer. If you reply to their comment, you take the risk of escalating the issue in front of all your fans. If you ignore it, the angry customer will probably escalate it himself.
Facebook will now let page admins reply to comments via private messages. And that changes everything. You get to take the conversation away from the page, and make the customer feel like his request is being dealt with properly.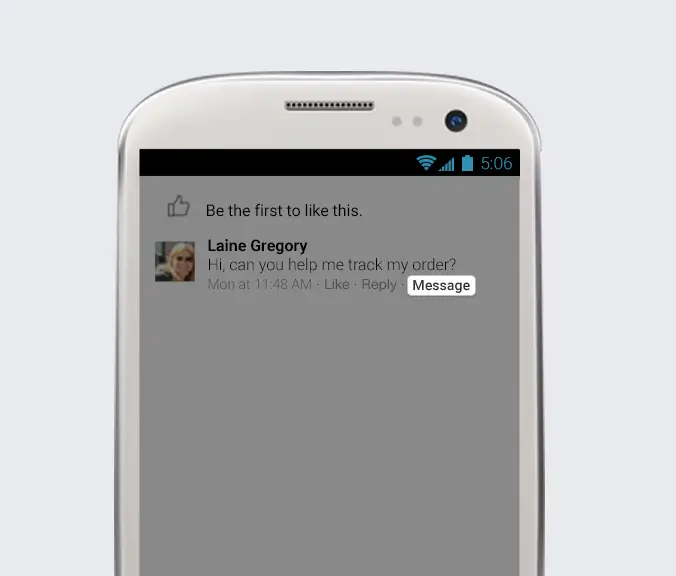 Send Messages To Pages From Ads
Facebook is adding a new call-to-action button for local awareness ads. The new ā€œSend Messageā€ button will now allow people to initiate a private conversation with business pages, directly from a NewsFeed ad.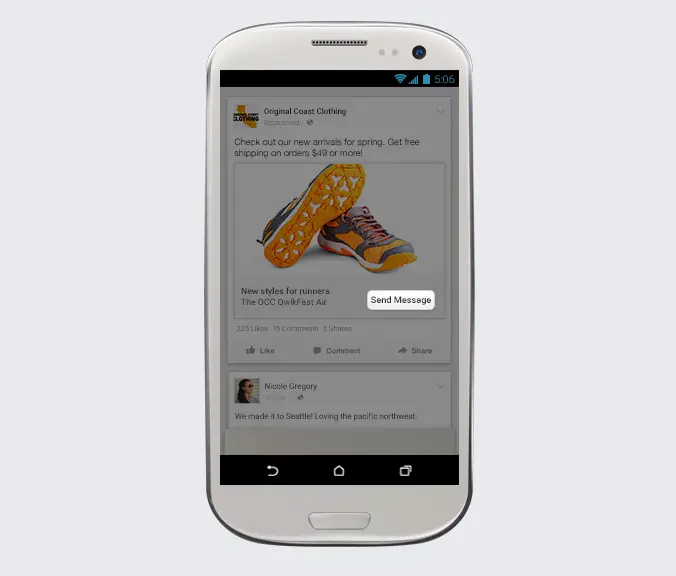 This new button is expected to generate a more direct exchange between people and brands, ultimately leading to driving more sales leads.
Identify TheĀ Pages That Respond
Facebook is giving some pretty awesome tools for businesses to interact better with their customers. It was only normal that this came with a counterpart for the customers, right?
A new badge (that has actually been tested across several pages over the last month) will now identify Facebook pages as being ā€œVery responsive to messagesā€ when the respond to 90% of the messages they receive and have a median response time of less than 5 minutes.
This will clearly identify which pages are good at customer service and help people know what to expect in terms of response time. Of course this does not mean page admins must solve any issue in less than 5 minutes, but rather that they should acknowledge a request ASAP.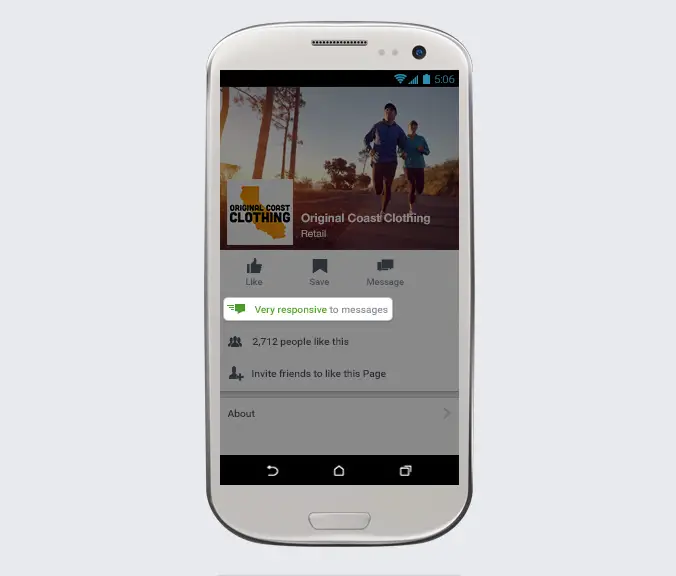 All these tools have one objective: improve the way businesses and people interact on Facebook. My opinion is that it will quickly become a huge social customer service success.
Source: wersm